Definitive Guide to Bluebeam
Bluebeam Revu is not just a PDF Editor
Bluebeam® Revu® can benefit your team during every phase of construction. Whether it involves ensuring that everyone is accessing the same information during the design phase, moving the project forward during the construction phase, or maintaining project data after project completion, Bluebeam Revu streamlines the entire construction process. Once you know what Revu can do for you, you can use this versatile tool to its fullest extent and, as this Bridging the Gap episode explores how to "Stay a Step Ahead." Revu editions include Standard, CAD and eXtreme®.
Millions of users have invested in this collaboration tool for increased productivity and time savings. Revu is used by 94% of the top US contractors and 92% of top design-build firms (Top 50 firms by revenue, as reported by Engineering News-Record). In this Bridging the Gap episode, Christopher Riddell discusses Bluebeam Trends and more. Some of the innovative Bluebeam Revu features that you can put to use in your company include:
Embed photos: If a picture is worth a thousand words, you can save a lot of words by using Revu. When you're on the jobsite and something doesn't look quite right, a photo can often tell the story more succinctly. The photo can then be embedded into the drawing easily with the Capture Markup tool. A comment can be added with the photo for clarity.
Customize: The entire Bluebeam interface and all the profiles can be customized to display only the tools you use. Toolbars can be streamlined to a user's individual needs. By right-clicking on an icon, it can be pinned to the top, side or anywhere desired. Profiles and toolboxes can be exported and shared with the team. With the Revu Tool Chest, regularly used custom markup tools can be saved, which is a positive step toward setting standards for others on your team.
Markup Summary and Markups List: All the comments that are attached to jobsite photos can be listed in a summary report. With Revu, each comment can be hyperlinked back to the appropriate page and photo to save time. By clicking on the comment in the spreadsheet-like summary report, the user is instantly taken to the correct page. Other functions include sort, filter, creating drop-downs, and performing calculations.
Keyboard shortcuts: Instead of scrolling to a Revu tool or command and clicking on it, the user can define keyboard shortcuts. Revu allows custom keyboard shortcuts for anything used on a regular basis.
Batch hyperlink (eXtreme edition): Users can automatically navigate through a drawing set by creating page labels under thumbnails. The page labels can be called out in hyperlinks in the section details. Revu can create 600 hyperlinks in two minutes.
Compare documents: Revu eliminates the frustration of trying to figure out what changed from one drawing version to another with Overlay and Compare tools. Compare shows changed content in clouds. Overlay shows the changed information in a different color.
Free training: Revu has built-in Tutorials for quick familiarization with the software. There are also on-demand webinars presented by Bluebeam technical professionals. Titles include Getting Started, Collaborative Review, Takeoffs & Estimates, Document Control, Studio, and more. For shorter sets of focused learning, there are feature-based training videos. Contact bluebeam@asti.com to get started.
How people use Revu
By architects for better communication and collaboration:
Document management
Submittal reviews
RFIs
Punch lists
By engineers to maintain data integrity:
Quantity takeoffs
Quality assurance and quality control
Document Management
By estimators to develop stronger job estimates and bids:
Design reviews
Document management
Quality assurance and quality control
By project superintendents to meet codes and maintain schedules and budgets :
RFIs
Punchlists
Quality assurance and quality control
By specialty contractors to meet and exceed customer expectations:
RFIs
Design reviews
Drawing management
Document management
Submittals
Punchlists
Quality assurance and quality control
By general contractors to keep the project on track and everyone on the same page:
Drawing management
Submittal reviews
RFIs
Punchlists
Document management
Quality assurance and quality control
Quantity takeoffs
Handover
Bluebeam offers a free 30-day trial version of Revu, so you can try it for yourself. When it's time to add Revu to your stable of technology tools, talk to the industry experts at Applied Software.
---
Revu is a Superb tool for:
Collaboration
Revu allows real-time collaboration among team members. Using mobile Revu technology, they can even track progress while in the field, easily sorting drawings by date to see what changes have been made daily.
Bluebeam has a Quick Start Guide and short overview videos that can get you going quickly with self-guided learning.
Innovation
The Bridging the Gap episode "Bluebeam Trends" with Christopher Riddell takes a look at the way Bluebeam Studio benefits collaboration.
The process of creating highly detailed digital 3D models of construction projects is a process that's relatively new – likely less than seven years old. By importing photographs and laser scans into reality capture software, a firm can preserve current conditions of every feature of a jobsite, whether it is new construction or a remodel.
There are trends shaping up in the design and construct world that can make our jobs easier – if we let them. And Bluebeam is part of that process.
More efficient design reviews
Know what your software can do, and use it to the fullest extent. From keyboard shortcuts to hyperlinking in batches to the search feature, Revu can reduce the time required to perform tasks from hours to mere minutes.
Revu has a fairly robust set of keyboard shortcuts that come with the software. With a little trial and error, we created a set of Bluebeam keyboard shortcuts to make your day a little easier.
With Revu eXtreme, you can use a PDF form to create a fillable form. The video, by Christopher Riddell, demonstrates how easy it is to improve the digital workflow for your entire team.
Using Revu eXtreme can improve your productivity and cut down on the amount of time you might otherwise have to spend on time-consuming tasks. Features include batch options, OCR, links, and form creation.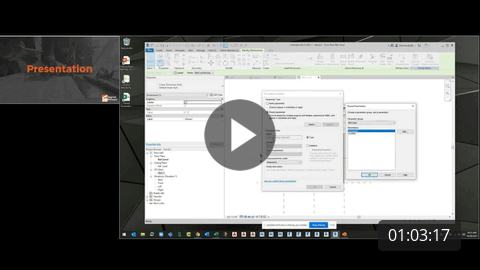 What kinds of stamps do you add to your company's project drawings? With Revu, you can create an interactive stamp on a drawing or on a hundred drawings.
Bluebeam partnered with Microsoft to integrate the surface dial into the Revu digital workflow.
Revu speeds up design reviews by elevating paperless workflows to a new level. Create 2D and 3D PDFs, organize commonly used markups in a tool chest, compare drawings and keep track of revisions with color coding, and collaborate in real-time.
The Revu Compare Documents function clouds the differences between files. The Overlay Pages function shows the different pages in different colors. The good news is, you can even use them in combination.
The quality assurance and quality control (QA/QC) process is critical to ensuring that a project is executed properly and meets the standards of both the owner and the contractor. Bluebeam Revu allows quick, accurate, thorough reviews so you can avoid costly design defects.
Seems like the worst possible things that can happen with project drawings will happen just hours (or minutes!) before a deadline. Revu helps avoid last-minute emergencies, rework and unhappy customers.
Quantity takeoffs
One of the best kept secrets in Revu is the way it benefits quantity takeoffs. Using calibration, markup standards, custom formulas, and PDF searches, Revu makes takeoffs easier and more precise.
Revu features are designed to increase productivity, improve measurement accuracy and streamline deployment company wide. Benefit from fast pan and zoom, rendering speed and refresh rates. Collaborate with teams in the cloud. Save money with accurate bids and QTOs.
Dashboards
Digital dashboards are PDF-based document management tools that can be used across the entire construction project – from client presentations to closeout. With pictures, icons, hyperlinks, and underlying data, Revu enables clean reporting, document sharing and easy post-project handoffs.
Handover at the end of the project
There are a couple of methods for project closeout that general contractors have access to these days. One is "the way we've always done it" – rolls of drawings and large notebooks containing warranties, instruction manuals, spec sheets, coffee-stained pages, and sticky notes. Another method is a clean, concise, text-searchable digital handover.
Gathering and analyzing data are new ways to keep a finger on the pulse of creating buildings that are smarter, safer and more efficient. Enabling the collection and use of that data to the owner of the building is a perfect way to promote long-term building efficiency while setting the builder apart as a leader in the industry.
Data protection
As we become more dependent on technology, all of our electronic devices become increasingly connected, allowing information to flow from one device to another. Therefore, cyber security has become a prominent concern globally. Companies need to have a plan, be smart about data backups and educate employees about online threats.
System Requirements
Minimum Requirements
When using Revu with typical office documents
Display: 1024 x 768

A display driver supporting OpenGL® 3.0 or above is required to display 360° photos.
A display driver supporting either OpenGL® 3.2 (or above) or OpenGL® ES 3.0 (or above) is required.

Processor

Desktops and laptops: 1 GHz processor or equivalent (recommended, see below)
Tablets: Intel® i3 processor or equivalent
Revu currently does not support ARM processors, like those found in the Surface Pro X.

RAM

4 GB (32-bit Windows)
8 GB (64-bit Windows)

Hard Disk

At least 5 GB of available space may be required.
Recommended Requirements
When working with large drawing sets (for example, construction project bid sets) in which the PDFs may contain hundreds of large format drawings, it is recommended that workstations have adequate memory and processor resources.
Display: 1024 x 768 or better

A display driver supporting OpenGL® 3.0 or above is required to display 360° photos.
A display driver supporting either OpenGL® 3.2 (or above) or OpenGL® ES 3.0 (or above) is required.

Processor

Desktops and laptops: Intel i5 Dual Core or better processor
Tablets: Intel® i3 processor or better
Revu currently does not support ARM processors, like those found in the Surface Pro X.

RAM
Hard Disk

At least 5 GB of available space may be required
Using Revu for OCR
OCR is included with the 64-bit version of Revu eXtreme. OCR will not work in 32-bit Revu.
Bluebeam®, Revu®, eXtreme®,and Batch Link® are registered trademarks of Bluebeam, Inc., used under license.